Self Clinching Standoffs
Self clinching standoffs of the highest quality. Are you are experiencing extended delivery times from your current supplier? Clinch Fast can deliver identical to industry standard parts,
within one to three weeks.
We can supply your need for Thru hole threaded self clinching standoffs; Thru hole unthreaded self clinching standoffs; Blind threaded Spacing, Hanging, and Special self clinching standoffs. Both metric and unified sizes. All lengths and thread sizes.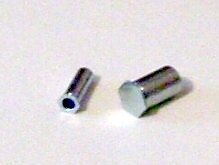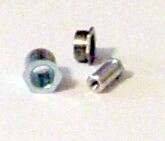 Our standoff installs with a squeeze in punched or drilled round holes and become permanently mounted in a thin sheet.
Clinch Fast brand self clinching standoffs offer installation with the heads flush with one surface of the mounting sheet. When blind-threaded self clinching standoff types are used, outer sheet surfaces are not only smooth, but closed as well. Unthreaded self clinching standoff types are also available for spacing multi-panel assemblies.
The Clinch Fast spacing or hanging standoff is designed so that a PC board or panel can be quickly slipped into place and then removed from an assembly by simply sliding the board sideways and lifting it off. It can save valuable time and dramatically reduce the amount of loose hardware required. Typically, you will use the spacing or hanging standoff, with one standard Clinch Fast threaded standoff that accepts a screw to secure the board or component against unwanted movement.
Clinch Fast is located close to Minneapolis/St. Paul. It is staffed with common sense dedicated workers that take pride in doing a job properly.
Our people are aware of and are involved in the need for consistent precision parts. With the aid of statistical process control (SPC), we are able to produce parts of the highest quality in the most efficient manner.
We can meet your requirements for self clinching standoffs with JIT deliveries, monthly shipments, or blanket order releases.
We can also supply you with panel fasteners, blind fasteners, connector fasteners, and broaching fasteners. Panel fasteners give you ease of assembly and quick removal (without loose hardware). They satisfy many functional and cosmetic requirements. Our panel fasteners offer large slotted heads for tool or finger operation and are also available with a Phillips head. They are made of low carbon steel for use of HRB 60 or less and in stainless.
Clinch Fast Inc. prides itself on providing outstanding customer service. Our staff is experienced in production techniques and are willing to go above and beyond the normal to serve you.
Our sales representative,
Duane Jaworski
of Jaworski & Associates is available at 612-792-2184, toll free 877-562-5070, e-mail
(djaworski@djmetalrep.com)
or by fax (612-785-9065). Duane is knowledgeable in all phases of manufacturing. You can visit his web site at
http://www.djmetalrep.com
We pledge to produce the finest quality self clinching standoffs, identical to industry standards. Our customers include computer companies, business machine companies, communications equipment companies, metal stamping companies, sheetmetal companies and other OEM manufacturers across the USA.
self clinching standoffs return to top of page